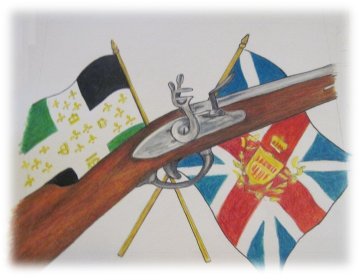 One of the most unique, emotional, engrossing stories you will ever read! An intriguing page-turner that will immerse you in a world of romance, steeped with history. . . Stay the Course continues the tale of a headstrong, vivacious temptress in need and the man in love with her, a personal scout to the one and only Colonel George Washington.

It is 1757, and the French, accompanied by their fierce Huron comrades, are reaping havoc along the shores of Ohio River Valley, torching and destroying everyone and everything along their murderous path. To survive this onslaught of torture, settlers must take up arms and defend themselves against skilled soldiers and vicious warriors.

Sashsa Nicole Lorraine Dupris Gray never expected to be married, let alone to the strong-willed Major Colton Tyler Gray. In fact, she was enjoying her status as the most available debutante of Montreal but was forced to run away from all she loved to daring adventures beyond her imagination.

Colton Tyler Gray, a major in the Virginia Militia, as well as, a personal scout to Colonel George Washington, never expected to fall madly in love with such a headstrong, vivacious temptress, either, especially after she insisted on spurring his many proposals.

But Sashsa is taken by Colton Tyler Gray, so infatuated and captivated by him that she decides to relinquish something she has always held dear: her hard-earned independence. She joins Colton, and the two of them try to carve a life out of the hostile wilderness of the colonial world. Even when dangerous circumstances force the two lovers apart, it is their love that reunites them once again, but Sashsa nor Colton is prepared for the danger they will be forced to face or the choices they will be forced to make to protect their happiness . . . and their hearts. Amidst all the trials and tribulations of an unrelenting wilderness and a seemingly unending war, will the two be able to continue to build a dynasty that will live on through the ages of history? Will Sasha and her lover be able to Stay the Course?